There are few instruments that deliver more impact at a wedding than the music of the great highland bagpipes. From the dramatic entrance of the bride to Wagner's "Bridal March" or the popular "Highland Cathedral", to the joyful recessional for the bride and groom, the highland bagpipes sets the tone and leaves a lasting impression on all guests.
"Thank you so much again for adding that something extra to our day. Everyone kept saying they have never been to a wedding with pipes and couldn't stop saying how great it was." Tyler & Holly, October, 2014.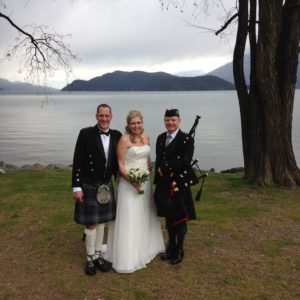 Adding Scottish highland music to a wedding is a wonderful way to recognize your or your spouse's Celtic heritage, their love for the music or the desire to do something different than other weddings. A piper can lead in the bridesmaids and/or bride down the aisle or into the venue. The piper can provide a lively recessional for the newly married couple as they head off into a new life amid friends and family. At the reception, the new couple can make a dramatic entrance as they are led to the wedding table.
I have played at a lot of great weddings and am always glad to chat beforehand about what you would like and make suggestions to ensure the pipes add a unique and memorable touch to such  a big day.
Here are some suggestions to choose from:
Pipe the arrival of guests at the church/venue
Pipe the groom and best man in to the church
Announce and/or pipe the bride down the aisle
Pipe a favourite melody or tune during the signing of the registry
Pipe the bride and groom out of the ceremony
Pipe while guests arrive for reception
Pipe the bride and groom (and bridal party) into the reception
Take the piper on the honeymoon …
Contact me at 778-838-6366 to discuss having a piper at your special occasion.
——————————–
 "I'd like to thank you, Mike,  for your moving musical performance at the Scottish wedding ceremony I officiated at Furry Creek. While I incorporated Celtic ritual and readings throughout the ceremony, it was truly your professional piping that gave it a magnificent final touch!
The best ceremonies are those that tug at our heart strings. Yes I may be biased (as I too am Scottish!), but what instrument could be more emotionally stirring and invigorating than the pipes?!"
"I hope to work with you again in the future. "Roxanne Thornton, MarryUs Custom Wedding Ceremonies
"Mike's piping was the highlight of our wedding ceremony. We thoroughly enjoyed the bag pipe music and he even learned a new song for us! He was both professional and friendly and even stayed later for pictures with us. We would recommend Mike to anyone looking for a piper. " Kathy Anderson, bride